Utilizing four metrics—the gender pay gap in tech, income after housing costs, women as a percentage of the tech workforce and four-year tech employment growth—SmartAsset recently analyzed 59 of the largest American cities to determine the best for women in tech.
Focusing on data from women and men working in computer and mathematical positions, the financial technology firm's report reveals that there are new up-and-coming cities in the tech game challenging the prevalence of powerhouses like Silicon Valley.
Study Findings
Women remain the minority: women hold approximately 26 percent of computer and mathematical jobs.
Washington, D.C. continues at the number one spot of SmartAsset's study, with one of the smallest tech gender pay gaps. The nation's capital also earned the first spot in the report's 2015 and 2016 edition.
The gender pay gap is not decreasing: 2017 analysis reveals that average female-to-male earnings ratio is 84.8 percent; last year it was 86.7 percent.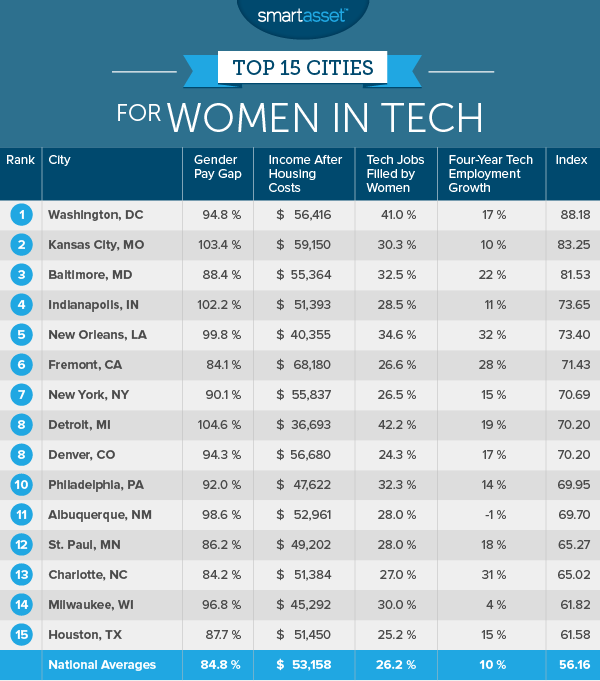 The best American cities for women in tech are sprinkled throughout the country, and in some, women in computer and mathematical jobs even earn more than men. Currently, however, women working full time in the U.S. earn just 80 cents for every dollar a man earns, and the reduction of the pay gap has significantly stalled in the past 15 years.
As the women's movement grows, it will transform cities with gender equality—in all industries—from dots on the map to entire states.