I am proudly part of the 1.4 percent of American women who served in the military. The day I signed the paperwork to join as a teenager the Gulf War kicked off and I watched tanks fire through the night on TV thinking, "What in the world did I do?" Having grown up in surf city USA (Huntington Beach, CA), I was never exposed to the military. To emphasize this point, the first time I walked into an Army recruiting office I had sand in my hair and sun-kissed skin; I was with a friend of mine and said, "Hi, I am thinking about joining the Marines," not even understanding the difference in services. The recruiter took a few looks at us, confused, and had to be thinking, "Sucker!" Having always been athletic and adventurous, I thought why not. I would rather try something and hate it than wonder what it would have been like. College was a bore and I was ready for the unknown.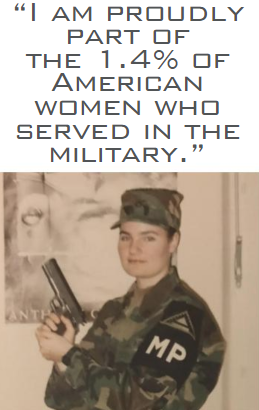 "Get off the bus, you maggots!" Welcome to Military Police Basic Training. What was wrong with these people? Why so much yelling? Okay, bag in hand off the bus I went into the barracks. This is actually where Hollywood gets it right. There's lots of yelling, climbing, learning, bonding and trying to stay under the radar. Except, I learned early on that was pretty hard for me. I was a runner breaking six-minute miles, and one particular drill sergeant could not stand that there was a female in his fast group and did whatever he could to break me. He was an infantry man where they did not work with women. There were many days of unnecessary hazing to the point he was counseled by the officers. He tried to make me cry, but failed. Many more attempts would follow. I learned early, never let them see you sweat and there is no crying in uniform.
Congratulations. First assignment, Germany. Away from everything I knew. I showed up and was nicknamed Private Benjamin. I was tasked with 12 to 15-hour patrol days and nights responsible for enforcing the Post Commander's rules and regulations. I was 19 carrying a side arm and had authority most 19-year-olds couldn't fathom. For any accident that involved an American within 200 miles I would drive out in my VW van with no heater and a blanket draped over me. I'd get out, wipe snow off signs, and arrive to some horrific scenes thanks to the autobahn and no speed limits. The Polezi refused to show up so I had to handle the situations; my first taste of being a first responder and having to show calm and exude control of situations. Our wartime mission dealt with POWs, security and convoy assistance. As the lowest ranking, I got assigned an M60 machine gun then a SAW and had to sleep with this metal thing in my sleeping bag. I was so cold at times I could barely get my fingers to work to shoot, but it's amazing how warm it gets once in use. After winning over my superiors they assigned me to work with the Criminal Investigation Division infiltrating drug rings and other rackets. This was not my thing. I had a hard time lying about my identity and it did not help that I never touched drugs so I was very uncomfortable. They needed females but I could be put to use better somewhere else.