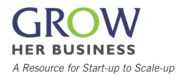 A special thanks to those of you who joined for the Council's Public Meeting last week. Not to worry if you missed it, we'll be posting a recap of the meeting in the upcoming week – check it out on our blog. In the meantime, you can also learn about the brand new research that we unveiled just a few minutes ago…
The Grow Her Business: A Resource from Start-up to Scale-up resource platform is LIVE! Grow Her Business is a searchable repository of nearly 200 premiere, growth-oriented programs. This platform will serve as a resource of valuable information and guidance for women entrepreneurs seeking to grow and scale their businesses. The platform will be an easy-to-use platform functioning as a data repository for relevant tactical resources on how to ideate, launch, and grow a business. A few things:
Of the 196 fully coded resources, the primary content for 50 percent is accessed in-person, with at least one resource in every state.
The other 50 percent of resources have some or all content online. Of the four types of assistance common to business development programs—technical, education, finance and networking—over half of the resources (106) offered multiple types of assistance within one program, potentially making for a more efficient time investment for women.
Fourteen percent provide opportunities for financing, as do several of the multi-assistance resources.
Visit, use and share https://womenbizinfo.sites.usa.gov/, featuring our program and many others designed to help WOBs start-up, scale, and grow! To learn more on our methodology, you can also download the complete report. And, in case you missed it, you can learn more by checking out the article released last week in Fortune Magazine.
Earlier this week, we also released Research on Women's Participation in Corporate Supplier Diversity Programs, Part 1. This report details findings from a first-of-its-kind survey of over 800 woman-owned businesses with at least $25,000 in annual revenues, specifically designed to illuminate women business owners' experiences with corporate supplier diversity programs. The report highlights factors that facilitate or impede women business owners' participation in private sector supplier diversity programs, and offers preliminary recommendations for how to improve such connections. Outcomes will be of interest to business owners seeking to supply with large corporations, corporations themselves, and policy-makers at all levels.
We posted a brief overview on the Council's blog. You can also download the complete report here.
We're looking forward to continuing this research with an additional release this fall. Stay tuned!
Sincerely,
NWBC Team
The National Women's Business Council is a nonpartisan federal advisory council created to serve as an independent source of advice and counsel to the U.S. Small Business Administration, the U.S. Congress, and the White House on issues of impact and importance to women business owners, leaders and entrepreneurs.